Raycom launch 12G/3G-SDI Multi-service Optical Transmitter for 4K UHD real-time and lossless Transceiver
Raycom launch 12G/3G-SDI Multi-service Optical Transmitter for 4K UHD real-time and lossless Transceiver
In the broadcast video and audio industry, the era of 4K UHD display is coming. There is no doubt that this will need ever higher requirements for ultra-high resolution content transmission. The trend of transmitting video and audio by 12G-SDI interface is irreversible.
Since Raycom had successfully launched the 1~8-ch 3G/HD-SDI Optical Transceiver RV6X1, its high-quality 3G/HD lossless transmission quality, flexible module combination, had won the praise of customers from all over the world. Today, Raycom continue to pursue an open and closely connected network, driving the professional power of R&D, release 12G-SDI traffic card, which implement real-time and lossless transmission of uncompressed 4K UHD data. Therefore, after supporting 12G, 3G, HD-SDI, Gigabit Ethernet, various data and external audio traffic cards, RV6X1 became a new generation 12G/3G-SDI multi-service optical Transceiver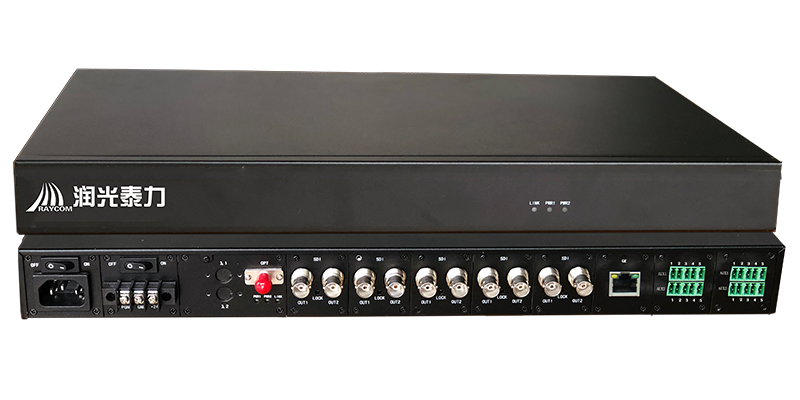 The RV6X1 achieves multiple video & audio, Gigabit Ethernet, and data transmission over optical fiber.
It is designed as a modular system with different traffic cards, such as 12G-SDI, 3G-SDI, HD-SDI, gigabit Ethernet, RS422/RS485/RS232/ unbalanced analog audio mixed cards, etc., performs multiple traffic transmission over an optical line, to meet user's various requirements easily.
The RV6X1 can be widely used in TV live broadcast, high-definition video conference, high-definition video monitoring, intelligent transportation system and public security system.
RV6X1 Technical Parameters
Item

Typical value

SDI Interface

Connector

BNC

Bit rate

11880Mb/s

、

5940Mb/s

、

2970Mb/s

、

1485Mb/s

和

270Mb/s

auto adaptive

Standard

Comply with EN50083-9 DVB-ASI、SMPTE 424M 3G-SDI、SMPTE-292M HD-SDI、SMPTE-259M SD-SDI、SMPTE ST 2081-1、SMPTE ST 2082-1 standard.

Pass SDI pathological code test and comply with SMPTE RP178 standard

Impedance

75Ω

Output level

800mVp-p±10%

Return loss

>15dB

12G-SDI

Rise and fall time

≤64ps

6G-SDI

Rise and fall time

≤84ps

3G-SDI

Rise and fall time

≤135ps

HD-SDI

Rise and fall time

≤270ps

SD-SDI

Rise and fall time

≤1.50ns

12G-SDI

alignment jitter

(100KHz)

≤0.35UI

12G-SDI

timing jitter

(10Hz)

≤2.0UI

6G-SDI

alignment jitter

(100KHz)

≤0.3UI

6G-SDI

timing jitter

(10Hz)

≤0.6UI

3G-SDI

alignment jitter

(100KHz)

≤0.3UI

3G-SDI

timing jitter

(10Hz)

≤2.0UI

HD-SDI

alignment jitter

(100KHz)

≤0.2UI

HD-SDI

timing jitter

(10Hz)

≤1.0UI

SD-SDI

alignment jitter

(1KHz)

≤0.2UI

SD-SDI

timing jitter

(10Hz)

≤0.2UI

Optical interface of transmission side

Connector

Adopts SFP optical module, Optional SC/FC/ST-PC connector

Distance

10Km~20Km for 12G/6G-SDI 10Km~40Km for 3G/HD/SD-SDI

Receive sensitivity

These three parameters are not fixed, as the RV6X1 has flexible traffic configuration, different configuration of RV6X1 has different parameters.

Overload optical power

Sending optical power

Cascaded Optical Interface

Connector

Optional SC/FC/ST-PC connector

GE

interface

Connector

RJ45

Frame length

From 64 to 2036 bytes

Default working mode

Auto-negotiation

Bit rate

10/100/1000Mb/s

Duplex

Half/full duplex

Standard

IEEE802.3ab 1000Base-T / IEEE802.3u 100Base-TX / IEEE802.3 10Base-T

RS485

interface

Connector

Industrial terminal blocks

Baud rate

0~115.2Kb/s

Working mode

Bi-direction, half duplex

RS422/RS232

Interface

Connector

Industrial terminal blocks

Baud rate

0~115.2Kb/s

Working mode

Bi-direction, full duplex

Power Supply

Power supply

Provides dual power redundancy: AC220V, DC-48V and DC+24V can be mixed supported

220VAC input voltage range

100

~

240V AC

-48VDC input voltage range

-36

~

-72V DC

24VDC input voltage range

18~36V DC

Environment Requirements

Working temperature

-30

~

60

℃

Relative Humidity

≤95

%

, no condensation

Storage temperature

-40

~

85

℃

Mechanical Dimension

Dimension

482mm(L)

×

44mm(H)

×

250mm(W)